Hilary Tsui arbeitet als Kunstberaterin, Kulturmanagerin und Kuratorin. Sie ist Gründerin von CityTransit Arts, das die Vermittlung und Sammlung zeitgenössischer und urbaner Kunst fördert (www.citytransitarts.com).
From Paris to Vienna, it is easy to find an exhibition horning the urgency of climate crisis nowadays. Curators have been doing the best research to dig out brilliant artists and works on the topic. With all the combined efforts just to convene a simple message, that there is not much time left till we reach the point of no return. However, it is this exhibition, Civilization: The Way We Live Now, which gives us a rare opportunity to have a sober look at our, sometimes absurd, contemporary life, and in turn, gives us the loudest wakeup call.
        Let's think about it for a minute. How many ancient civilizations have collapsed before our time? From the well-known Mayans, the Old Kingdom of Egypt and Roman Empire, to the lesser known Khmer empire, the Indus civilization, and the Mississippians, there are over 30 advanced civilizations that have collapsed. As to the factors contributing to their collapse, there have been different researches done over the years.
        In 2014, a research conducted by the University of Maryland and partly funded by NASA looked into how »population, climate, water, agriculture, and energy« can lead to the collapse when these factors converge to generate two crucial social features, namely the scarcity in food and resources, plus the inequality gap between the rich and the poor.
        In 2016, Ian Morris, archaeologist and Professor of History at Stanford University, presented his perspective from his years-long archaeological research and concluded five major factors contributing to the collapse of ancient civilizations. These are: 1) uncontrollable population movements; 2) new epidemic diseases; 3) failing states leading to increased warfare; 4) collapse of trade routes leading to famine; and 5) climate change.
        Fast forward to 2023, these are exactly the daily reality that we are confronted with. Adding to the new challenge we are facing with the current unpredictable development of A.I., we indeed are walking on thin ice. No wonder this landmark exhibition feels like a long time coming. Thanks to the initiator and independent curator, William A Ewing, a veteran in photography, joined by co-curator, Holly Roussell Perret-Gentil, a specialist in Chinese photography to embark on this ambitious project in 2016. After touring in major Museums in Seoul (KR), Beijing (CN), Melbourne (AUS), Auckland (NZ), Marseille (FR) and Forli (IT) with modifications at each location, it has arrived in the Saatchi Gallery in London. The exhibition showcasing over 350 original prints by 150 internationally acclaimed photographers, from established to emerging alike, does not only serve as a study of contemporary photography, it also serves as a massive visual study on global human conditions in urban settings.
        Ewing has stressed on multiple occasions, that the exhibition intends to spotlight on the collective nature of our civilization instead of the prevalent glorification of individual accomplishments. Indeed, the exhibition offers a breathtaking glimpse at our collective life and structures across the globe. With the focus on displaying still photography, viewers are given the time and space to contemplate on the various issues being presented.
        The exhibition is conceived as a journey through key aspects of civilization and consists of eight thematic chapters. Most works are documentary in nature, with a blend of photojournalism and art photography in their end-results. One would walk through different chapters with a mixed of emotions. At times in awe of our technological achievements, and at other times, saddened or in disbelief of certain absurd urban conditions that we find ourselves dwelling in. Since it is not possible to review the works of 150 outstanding photographers in a meaningful way, here are a few pieces that stood out in different chapters.
        Chapter 1: HIVE - on the urban environment
        In HIVE, the acclaimed French photojournalist Philippe Chancel's piece showing an aerial view, which depicts a spacious land without proper urban planning, with a few high-rises here and there and a monstrous high rise still under construction that is obviously out of proportion, when compared with other buildings in its surrounding. The subject matter in this photo is quite clearly the Burj Khalifa Tower, a 828-meter tall building that has been the tallest building since 2010 (it will, however, be soon be beaten by the 1000-metered Jeddah Tower in Saudi Arabia in 2023). The photograph clearly captures the extreme and ridiculous attempt of nations in their quest of the tallest building race.
        Chapter 2: ALONE TOGETHER – how we relate to one another
        This session is to highlight the interdependence of our human existence. Although human beings are social creatures, and the social network keep us alive. The inherent human existence is experienced alone. This cannot be expressed more poignantly than the series »Subdivided Flats« (2012-15), by the Hong Kong photographer, Benny Lam. The series was commissioned by a local charity to shed light on the extreme housing problems in the capitalistic Hong Kong. Behind the flashy glitters, there is a forgotten segment of the society that lives in extreme poverty.
        Lam has adopted a consistent bird-eye view in the series, showing clearly the size, household items and activities in each flat. We see an elderly sitting alone inside his 5-meter shoebox, families of 3 having dinner, kids lying on their bunker bed to do their homework. This photo documentary is poignantly heart-breaking. Not only does it brought the unknown topic of poverty in the flashy Hong Kong to the surface, it also begs the viewers for support and to reach out.
        Chapter 3: FLOW - the movement of peoples, good and ideas
        Travel has become one of the indispensable parts of our life, whether it is for work, for leisure, or simply to feed our wanderlust. In FLOW, Jeffrey Milstein's depiction of airports is a beautiful celebration of human civilization. The bird-eye view gives us a perspective that we don't usually see, human-beings are not even visible, we can only see the aircrafts and the infrastructures. These photos reveal to us that behind our individual travelling experience lies a huge collective effort, which is a key driver in our human civilization.
        Milstein's training in architecture and his former profession as pilot seem to have made him the best candidate to tell the stories of cities from up high. He has started an on-going series on airports, "Flying" back in 2012-that shows the complex patterns, layers of airports and city structures in general. His photography shows us some truly breathtaking urban systems and collective achievements of our civilization.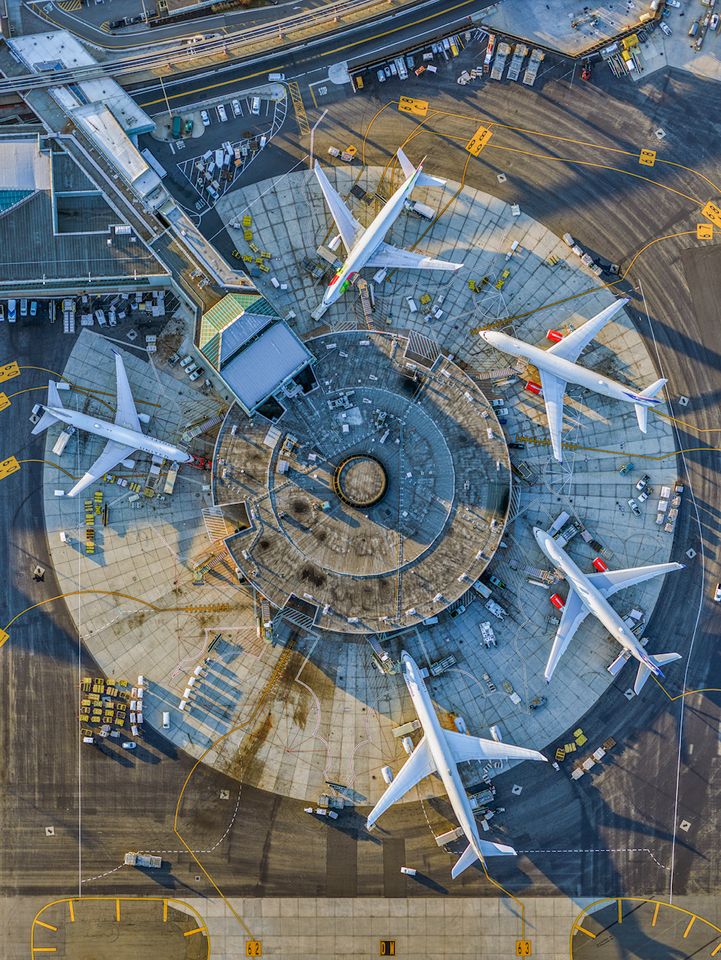 Jeffrey Milstein – Newark 8 Terminal 8, Newark, NF, 2016. © Jeffrey Milstein
        Whereas in the same section, the work of Mike Kelley takes a more critical stance on our current habit of air travels. His work shows a stream of airplanes on the sky, heading respectively to the east and the west. This surreal image is in fact a montage derived from a documentation of air traffics in Zürich airport over a span of 8 hours. The extreme density of air traffics, set against the backdrop of an idyllic farmland with cows looking up at the sky cannot be an accidental juxtaposition. We are prompt to reflect more seriously on the environmental impact of our ever-increasing air footprints.
        Chapter 4: PERSUASION – the power of influence
        Pop culture is a million dollar business and the media industry is an essential fuel to make sure the consumer demand and supply chain is properly maintained, especially among the lucrative market segment of youths and women. The works of Lauren Greenfield, photographer and documentary filmmaker, has provided some jarring reality check of the detrimental effects that the media culture has on the American society. Her work at this exhibition is the making of a photo shoot of the teenage star, Selena Gomez, with perfect makeup, hairdo and costume, posing to be photographed. The photo also shows two guys special effects at the background, making it look somewhat comical. Yet, it is a clear intention to reveal the ridiculous part of our consumer society and the manipulation of our media culture. Imagine if this kind of behind the scene footage would be shown in parallel with the official launch. This might be a first step to offset the toxic effects that the global media world has caused in our society, where the perfection of Hollywood or MTV stars and the celebration of Victoria secret model physics have become the norm.
        Chapter 5: ESCAPE – how we relax
        Works showing various leisure activities that we pursue in different parts of the world dominate this session. Massimo Vitali's familiar large-scale color images of often over-crowded beaches and mass leisure events give us a straight-forward shoot, yet with a sarcastic undertone, revealing our search for individual escape has become a collective pursue.
Massimo Vitali, Piscinao de Ramos, 2012 © Massimo Vitali
        Chapter 6: CONTROL – on authority and power
        In this session, we see works featuring different structures that are created to maintain order and discipline. The belated Swiss photographer Luca Zanier's »Corridors of Power«, which look at important places where history is made, including the EU parliament, the UN General Assembly, the German Stock Exchange, and many more, yet, entirely devoid of people. These architectural photographs gives us a rare and striking views on these international nodes of power and control.
Luca Zanier – FIFA EXECUTIVE COMMITTEE ZURICH 2013. ©Luca Zanier
        Chapter 7: RUPTURE- societal breakdown and conflict
        In RUPTURE, it provides a ton of chilling effects as photographers reveal our civilization's collective troubles, including environmental crisis, border and human right issues, wars and violence. Olaf-Otto Becker's photo looks like a stage photograph at first glance, with people posing on melting snowy slopes. But in fact, it was taken from Becker's one of the 2 expeditions to Greenland, when he captured the melting process of the world's largest glacier. Becker has devoted his work to documenting the environmental changes in different parts of the world. Among his four elaborate projects, his Iceland project has spanned over 13 years when he documented the man-made changes in Iceland's landscape from 1999 – 2012. The mix of landscape photography mixed with the message that he so poetically attempts to tell the world feels sort of like a beautiful destruction.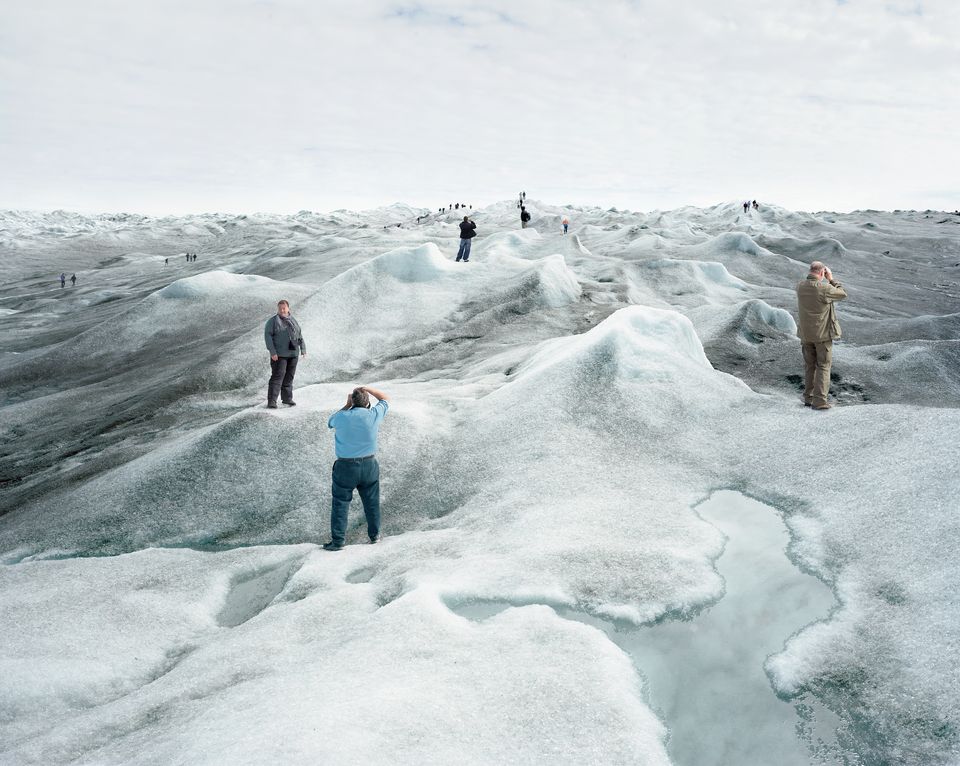 Olaf Otto Becker, Point 660, 2, 08/2008 67°09'04''N, 50°01'58''W, Altitude 360M, from the series Above Zero, 2008 © Olaf Otto Becker
        Chapter 8: NEXT? – on the new world taking shape in the 21st Century
        Our world is constantly changing, as technological development heightens, the (near) future of our society has become ever more unpredictable. From self-driven cars, humanoids attending press conferences, to space exploration, many of the photographers are watching closely, documenting the new horizons that are standing by behind the curtain.
        Michael Najjar, the Berlin-based photographer, adventurer and future astronaut, is one of the key protagonists in the topic of space exploration. Najjar's »Outer Space« series which he started in 2011 »focus on the latest developments in space exploration and the way they will shape our future here on Earth«. As the artist is preparing to be the first artist to travel to space, he is documenting the journey along the way. His outer space works have given us a rare glimpse of high-security areas that are usually prohibited to the public and striking images, such as Orbital Ascent, 2016. »The work features the historic launch on 17 November 2016 of the Ariane 5 Rocket at the Guiana Space Centre (CSG), the European spaceport near Kourou in French Guiana. The spaceport is a high-tech facility surrounded by the Amazonian forest which creates a thrilling, surrealistic setting with its blend of a lush environment, the surface of Earth, and space exploration and its technologies.«
Michael Najjar, orbital ascent, 2016 from the series outer space © Michael Najjar
        Another photo artist who shares similar fascination on the topic, yet with a different artistic approach is Vincent Fournier. The French photo artist's take on space exploration is often conceptual and staged, often oscillates between fiction and reality. This manifests in his poetic and dream-like visual language to enhance the elements of dreams and mystery in this particular scientific pursue of the mankind.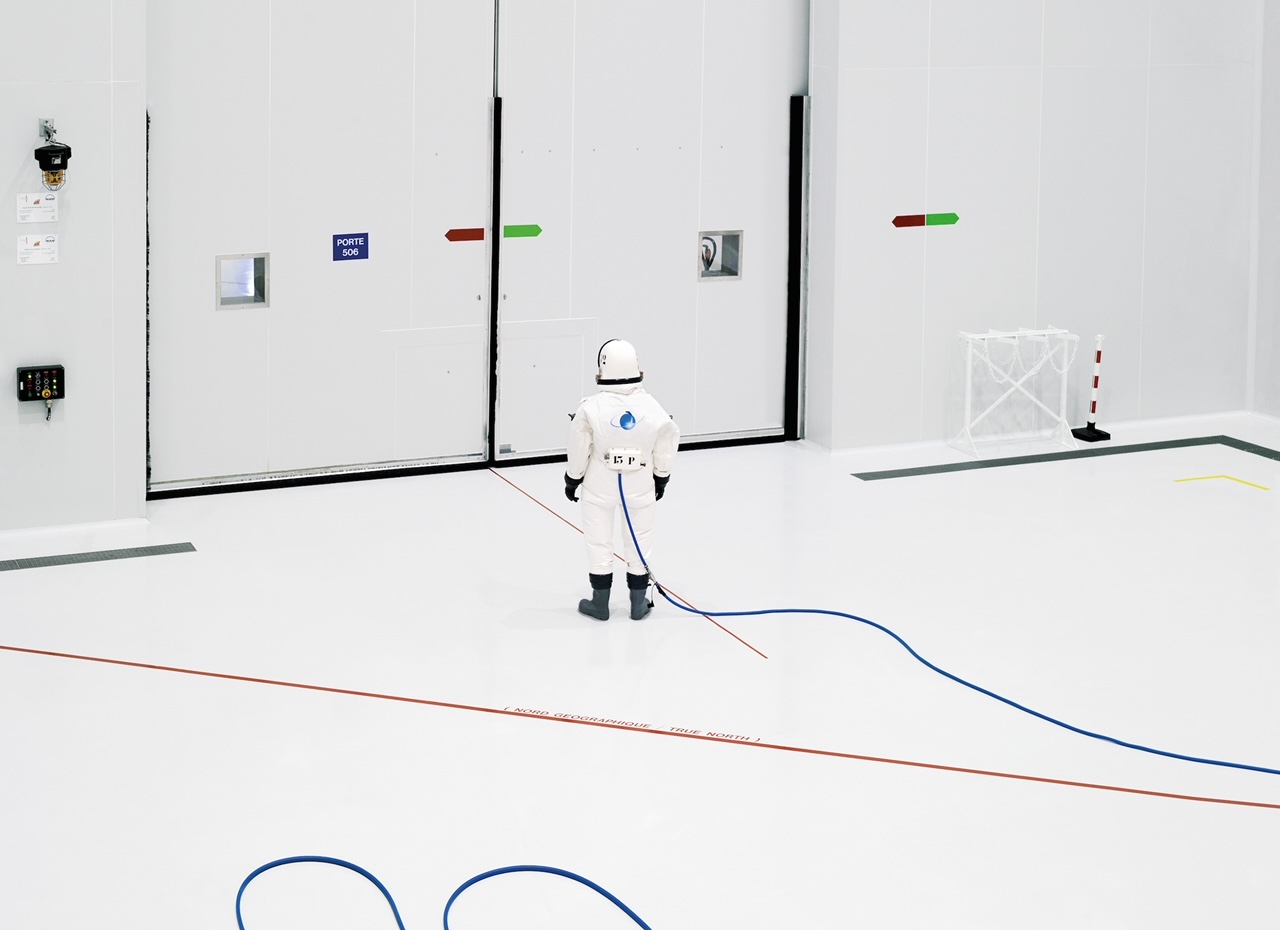 Vincent Fournier, Ergol #1, S1B clean room, Arianespace, Guiana Space Center [CGS], Kourou, French Guiana, 2011 © Vincent Fournier
        Afterthoughts
        Progress goes hand in hand with our civilization. As inventions are made to constantly move us forward, we oddly find ourselves to be forced to find ways to mend the cracks that we break along the way. Going back to the aforementioned 2014 study, the researcher did provide some ray of hope for humanity. It concludes that the key solutions are to reduce 1) social inequality, 2) population growth, and 3) depletion per capita. Whereas the aforementioned Professor Ian Morris concluded at the WEF in 2016 that 1) the importance of good leadership, 2) high economic growth rate and 3) the ability to contain violence, are some major factors at play in averting the downfall of civilizations.
        Civilization – the way we live now, has provided us, in a grand manner, an unprecedented look at our collective success and failures of mankind. It might also just quietly gave us »a fair warning«, as the auctioneers would say before the deal is sealed, and there is no turning back.