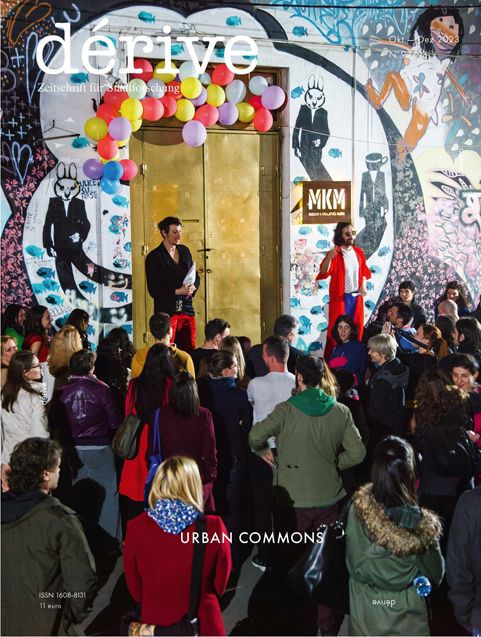 Levente Polyák
,
Daniela Patti
,
Jorge Mosquera
Ownership, governance and the economy of commons
dérive N° 92/93 (Juli - Sept / 2023)
The notion of the commons, referring to a sphere of goods and resources distinct from the private and public spheres, has enjoyed a true revival throughout the world in the past years and has been widely used in a variety of contexts. While it has become a common denominator among different activist fields, the concept of the commons has also found its way into policy discussions and the institutional vocabulary.         Firstly, the commons as a principle has become a key reference for
…
Heft kaufen
Oktober 2023
---
Levente Polyák
Levente Polyak is an urban planner, researcher, community advocate and policy adviser. He has worked on urban regeneration programs for the New York, Paris, Rome, Vienna and Budapest municipalities and is managing director of Eutropian. He taught at MOME and BUTE (Budapest) and TU Wien, was visiting fellow at Columbia University and the ENSA Paris-Malaquais and holds a PhD in Sociology from the Central European University.
Daniela Patti
Daniela Patti is an Italian-British architect and urban planner, has studied in Rome, London, Porto and holds a Ph.D. in urbanism from the Technical University of Vienna. She is a co-founder and managing director of Eutropian. Her recent research and projects' interest has been on the governance of peri-urban landscape, the revitalisation of local food markets, economic models for community-based urban development and strategies to tackle urban poverty.
Jorge Mosquera
Jorge Mosquera is an urban researcher based in Vienna, and a Ph.D. candidate in planning and public policies at the IUAV University of Venice. As a member of the Eutropian team, he is involved in research and dissemination of EU-funded projects related to urban governance and social sustainability. His primary focus of research is the interplay between community-led initiatives and local governmental bodies concerning policy making and spatial planning.
Die Zeitschrift mit dem gesamten Artikel kann online im Shop erworben werden!
---
Heft kaufen
---